Cauldron of Aruba
Edit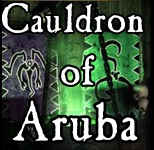 In the Cauldron of Aruba, you can use mojo flasks to collect scroll parts which lead you to an exciting bonus map. For every mojo flask used, you receive a scroll part, valuable pearl items or other surprises. These surprises can also be switched and do not stay forever. 
Mojo was actually a fabric bag which was carried underneath a person's clothes. Filled with herbs and magical powers, sometimes with coins and other suitable items, it was enhanced with magic, and was meant to protect you from evil or to bring you luck in certain situations. In the game however it is a liquid filled up in a flask; it is the currency for the Cauldron of Aruba and might just bring you luck. You receive a flask of mojo every day for free, which will show you under extra-mojo in the Cauldron of Aruba. You can also find mojo in some Glitters on the sea chart or in the Cauldron of Aruba. Buying mojo in the Cauldron of Aruba will cost an additional 100 pearls.
Joker is recived when a pieces that you already have of a bonus map is drawn. You can save a maximum of 5 jokers, after which the next item is drawn uses up all your jokers and you will recieve 5 more of that item. At any time, you can mark the checkbox next to "Use Joker" and the item drawn will be multiplied by the amount of jokers that you have.
Categories and Chances
Edit
38% chance of elite equipment
35% chance of other items
17% chance of scrolls/ Jokers
10% of elite ammunition
Elite Equipment
Edit
1-2 Cutlasses
1-2 Armor
1-2 Pistols
1-2 Harpoons
1-3 Powder Monkeys
Other Items
Edit
2000 Hitpoints
1-2 Extra Mojo
10 Black Powder
5 Shields
1 Dock agreement
1 Writ of Protection
1 Mojo Deck
Scrolls/Joker
Edit
1 Virgo Sroll piece
1 Capricornus Scroll Piece
1 Sagittarius Scroll Piece
1 Cancer Scroll Piece
Elite Ammunition
Edit
180-220 Elite Cannonbals
180-200 Elite Healingballs
180-220 Flares
Ad blocker interference detected!
Wikia is a free-to-use site that makes money from advertising. We have a modified experience for viewers using ad blockers

Wikia is not accessible if you've made further modifications. Remove the custom ad blocker rule(s) and the page will load as expected.